< Back to Education and Training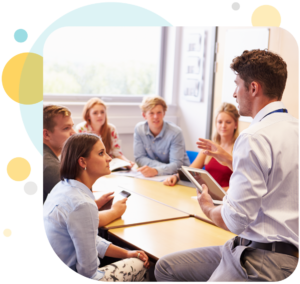 Course Overview
Online course
Completion time within 6-12 months
Upon completion, you can apply for QTLS (Qualified Teacher Learning and Skills) status
No previous teaching or training experience required
Dedicated tutor support
Qualification regulated by Ofqual
No hidden fees
Course Details
This qualification is delivered on our user-friendly online learning platform with full tutor support, comprising of 7 units:

Teaching, learning and assessment in education and training
Theories, principles and models in education and training
Developing teaching, learning and assessment in education and training
Wider professional practise and development in education and training
Developing, using and organising resources in education and training
Inclusive practise
Teaching in a specialist area

You will be required to provide evidence of 100 hours of teaching practice while undertaking this qualification. Your students must be over the age of 14 with a minimum group size of 3.

Our courses are designed to be convenient, intuitive and delivered as part of a holistic approach that is supported by our awarding bodies and regulated by Ofqual.

If you've completed level 3 and level 4, this is the perfect way to extend your skills. However, you need no teaching or training qualifications to enrol. You may, however, be eligible to complete Level 5 without completing level 3 or level 4, depending on your classroom experience.

You must be at least 19 years of age to enrol on this course.

Observation:
It is required that 8 hours of teaching practice is observed in a real classroom environment to assess the practical elements of the qualification, 7 of which will be observed by your qualified colleague (who will need to hold a training qualification of no lower than a Level 5 Diploma in Education & Training). The other observation will be observed remotely by your BBE Training Tutor.

Course reading:
BBE Training supplies "Principles and Practices of Teaching and Training" by Ann Gravels as part of the course materials to help aid you with your research.

There are no specific entry requirements for this course however you must meet the following minimum criteria:

• Reading and communication skills should be adequate to meet the requirements of the training

• You do not have a criminal background which prevents you working, with young people or vulnerable adults, as a teacher

• Hold a relevant qualification at a level above that of your learners; ideally at least Level 3 in your area of specialism

• Minimum core of literacy, language, numeracy and ICT

You must be at least 19 years of age to enrol on this course.
What our customers say…
Having never studied online previously I was unsure if this type of studying would suit me. I am pleased to say that BBE have been very helpful and are fully engaged in helping you achieve your goals. They have also assisted me in sitting my assessments at a local training centre due to my work commitments and travelling time.
AAT Level 2 in Accounting has given me the confidence and understanding to advance to Level 3. It provides a solid foundation in finance.
Who are the awarding body?
Training Qualifications UK (TQUK) is the fastest growing Awarding Organisation across the UK. They accredit over 400 Centres worldwide and certificate over 100,000 Learners across 50 countries with a world-class reputation internationally recognised qualifications. Alongside private training providers like BBE we provide qualifications that meet the needs of learners and employers. Our flexible and responsive approach to qualification development means we can work with you to get the very best offer for your learners. BBE are proud to have been awarded TQUK's Diamond Approved Centre status.