< Back to Education and Training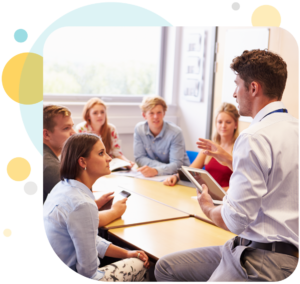 Course Overview
The Level 4 Certificate in Education and Training (CET – formally CTTLS) is suitable for individuals who want a qualification that focuses on practical teaching and prefers a wide choice of optional units. Learners may already be teaching and wish to have their experience and practice accredited, or not presently teaching but capable of meeting the minimum teaching practice requirement of 30 hours.
Course Details
This qualification is delivered on our online learning platform with full tutor support. The materials can be accessed from anywhere by downloading the app. Our courses are designed to be convenient and intuitive and delivered as part of a holistic approach that is supported by our awarding bodies.

• Individuals who are currently teaching and training (including those who have just begun teaching and training) who can meet the practice requirements, including the observed and assessed practice requirements of the qualification
• Individuals who are not currently teaching and training but who can meet the practice requirements, including the observed and assessed practice requirements of the qualification

Learners on this course are required to be in a position of teaching to either individuals or groups of learners aged 14yrs + where they can evidence 30 hours of current teaching practice during the qualification. 3 of these hours are required to be observed by a self-appointed observer from your own setting and are required to be evenly spaced throughout the course. Your chosen observer is required to hold a minimum teaching qualification of a Level 4 Certificate in Education and Training and your tutor will need to see evidence of this by means of a Certificate.

There are no specific entry requirements and learners do not need to have teaching practice hours to achieve the qualification. However, learners must be at least 19 years of age at certification.
Your Questions
With BBE it couldn't be easier!

Step 1.
Select the course you would like to enrol on and pay online via our online secure payment system.

Step 2.
You will then receive an email containing a registration link and password

Step 3.
Using that login, complete and return the registration paperwork along with your proof of ID and send it through to studentsupport@bbetraining.co.uk

Step 4.
Within 72 hours you will then receive another email containing your login details to our e-learning platform Moodle, all your tutor details and BBE learner support information.

Step 5.
Your tutor will then arrange your full induction to discuss your support needs and course study details.

You're now on your way to completing your next qualification!

All our online courses come with the offer of a payment plan if the value is over £199. With an initial deposit of only £99, why not take advantage of our interest-free payment today? You will find the payment plan breakdown for each individual course on the course page itself. Our public or open courses are required to be paid upfront.

• 121 tutor support for all online courses.
• Flexible course start dates to suit you.
• Learning and development that fits in with your lifestyle and work commitments.
• Interest-free payment plans are available for all courses.
• Nationally accredited, locally delivered.
• Excellent awarding body audit reports.
For more information about why to study with BBE and our background click here.


That all depends on what route you decide to take. Our clients that join our public courses or dedicated blended programs will gain their qualification at the end of the course. With online distance learning, it depends on the qualification being undertaken. Please click here for a guide of how long each of our courses should take.

The BBE Training E-Learning portal is a web-based learning platform that we have invested in to give our learners the best possible experience. Fully customised for BBE, its based on the award-winning Moodle software.

Learners can complete and upload or download and complete offline before uploading to their login area. All work is marked and assessed from within the learning platform with allowing tutors and learners to automatically notify each other when a process has been completed. It stores all communication centrally and is the system that allows learners to be able to work on any device by downloading the App.

What our customers say…
I was very happy with the assessment centre and the service provided by BBE Training. I was made to feel very welcome and the surroundings were perfect for sitting my assessment.
AAT Level 2 in Accounting has given me the confidence and understanding to advance to Level 3. It provides a solid foundation in finance.
Who are the awarding body?
Training Qualifications UK (TQUK) is the fastest growing Awarding Organisation across the UK. They accredit over 400 Centres worldwide and certificate over 100,000 Learners across 50 countries with a world-class reputation internationally recognised qualifications. Alongside private training providers like BBE we provide qualifications that meet the needs of learners and employers. Our flexible and responsive approach to qualification development means we can work with you to get the very best offer for your learners. BBE are proud to have been awarded TQUK's Diamond Approved Centre status.