< Back to CMI Management and Leadership Level 5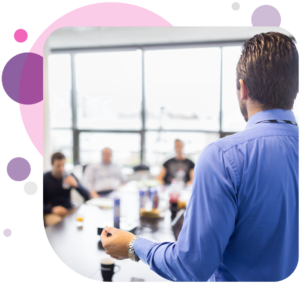 Course Overview
Online course
Completion time within 3 months
Understand how a manager should lead, handle processes and guide people when it comes to managing equality, diversity, and inclusion
Recognise the benefits and advantages of commitment to equality and diversity
Dedicated tutor support
Utilise relevant knowledge in your job straight away
80% of managers said that a CMI qualification is a key part of becoming a professional manager
No hidden fees and interest-free payment plans are available
Course Details
This unit has been designed to enable the learner to analyse the requirements for managing, monitoring and reporting on equality, diversity and inclusion. It focuses on the skills required to lead by example and how to adapt leadership styles to support others to see the benefits of inclusive practice. On successful completion of the unit, learners will be armed with the knowledge required to develop and implement an action plan and monitor its outcomes to make continuous improvement. Exclusively all BBE's learners gain access to the BBE Training Zone powered by CMI's ManagementDirect.

This qualification is delivered on our user-friendly online learning platform with full tutor support.

This Level 5 Award includes the following learning outcomes:

Understand legal and organisational approaches to equality, diversity and inclusion
Understand the role and responsibilities of a manager in relation to equality, diversity and inclusion
Know how to develop and implement plans which support equality, diversity and inclusion within an organisation
Know how to monitor and report on equality, diversity and inclusion

This course is aimed at enabling practising or aspiring managers to understand the business case for equality, diversity and inclusion and the role of managers in creating inclusive cultures.

You must be at least 18 years of age to enrol on this course.

BBE Training Zone – Powered by CMI ManagementDirect:
You will have exclusive access to the BBE Training Zone powered by CMI's ManagementDirect.

There are no specific entry requirements however you will need to have a good understanding of the English language and writing.

Ideally you need to be working within an organisation or role where you can demonstrate skills and apply knowledge. Alternatively, you could draw on previous experience within an organisation or use an organisation you are familiar with.

You must be at least 18 years of age to enrol on this course.
Your Questions
With BBE it couldn't be easier!

Step 1.
Select the course you would like to enrol on and pay online via our online secure payment system.

Step 2.
You will then receive an email containing a registration link and password

Step 3.
Using that login, complete and return the registration paperwork along with your proof of ID and send it through to studentsupport@bbetraining.co.uk

Step 4.
Within 72 hours you will then receive another email containing your login details to our e-learning platform Moodle, all your tutor details and BBE learner support information.

Step 5.
Your tutor will then arrange your full induction to discuss your support needs and course study details.

You're now on your way to completing your next qualification!

All our online courses come with the offer of a payment plan if the value is over £199. With an initial deposit of only £199, why not take advantage of our interest-free payment today? You will find the payment plan breakdown for each individual course on the course page itself. Our public or open courses are required to be paid upfront.

• 121 Tutor support for all online courses
• Access to fully interactive online digital resources (including CMI's management Direct)
• Flexible course start dates to suit you
• Learning and development that fits in with your lifestyle and work commitments
• Interest-free payment plans are available for all courses
• Nationally accredited, locally delivered.
• Excellent awarding body audit reports
For more information about why to study with BBE and our background click here.


That all depends on what route you decide to take. Our clients that join our public courses or dedicated blended programs will gain their qualification at the end of the course. With online distance learning, it depends on the qualification being undertaken. Please click here for a guide of how long each of our courses should take.

The BBE Training E-Learning portal is a web-based learning platform that we have invested in to give our learners the best possible experience. Fully customised for BBE, its based on the award-winning Moodle software.

Learners can complete and upload or download and complete offline before uploading to their login area. All work is marked and assessed from within the learning platform with allowing tutors and learners to automatically notify each other when a process has been completed. It stores all communication centrally and is the system that allows learners to be able to work on any device by downloading the App.

What our customers say…
Thanks for all your help and patience with this course. I am hoping to book on to the CET soon, I would definitely come back to BBE.
I would like to thank you for the certificate and the outstanding provision and training provided throughout the BBE course. I was worried about my ability to complete the course via distance learning but the support and guidance by my tutor and the BBE Team was invaluable and the qualification provided me with a much better understanding for teaching first aid.
Who are the awarding body?
The Chartered Management Institute (CMI) is an accredited professional institution for management based in the UK. Their corporate strategy is to create the better led and managed organisations by increasing the number and standard of professionally qualified managers. A CMI qualification delivered by BBE will help managers who want to sharpen their professional edge and enhance their effectiveness, membership offers access to qualifications, courses & mentoring. You can also achieve the ultimate management accolade, Chartered Manager status. Uniquely BBE provides unrivalled leaner support as every customer gains access CMI Management Direct.